Mopar Service in Snyder
Hours:
Mon - Fri : 7:30 AM - 6:00 PM
Dealership Amenities
Mopar provides authentic OEM parts for your Chrysler, Dodge, FIAT, Jeep, RAM or SRT vehicle. We also offer OEM accessories and performance parts for your vehicle to make sure it's customized to your heart's desire.
Certified Technicians
We Have Early Bird Hours
Free WiFi
Goodyear Tires
Michelin Tires
We Offer Mopar Accessories
We Offer Mopar Performance Parts
We Offer Rentals
Saturday Service
Ask About Service Contracts
Shuttle Service Available
We Do State Inspections
Spanish Speaking

---
Welcome to our Blake Fulenwider Chrysler Dodge Jeep Ram (CDJR) Snyder service center! Our team is ready to get you and your ride back on the road to keep your Snyder, Big Spring, Sweetwater, Colorado City, and Hermleigh, TX, adventures going.
We provide all the services your ride might need, from the most basic routine maintenance to any extensive repairs you might need along the way. Continue on below to learn more and then schedule a service appointment with us!
---
Service Your Chrysler, Dodge, Jeep, or Ram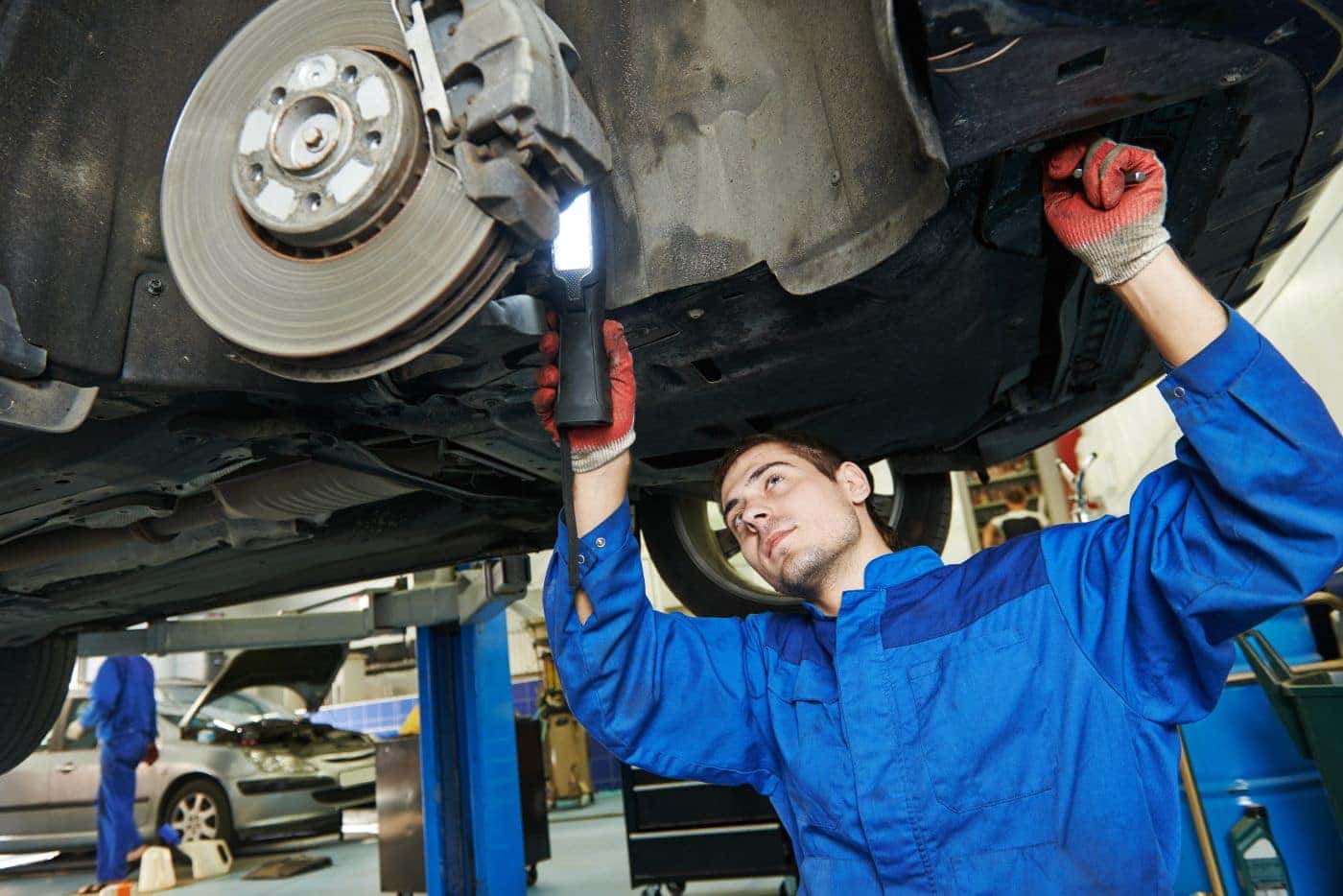 At our service center, we have a team of factory-trained and certified technicians ready and equipped to get your car back on the road. No matter the issues you're experiencing, our team can provide the service needed to get things back in top working order.
Just some of the services we offer at our service center include:
Oil Changes
Tire Rotations & Balances
Engine & Transmission Service
Brake Repair
Battery Replacement
The next time you need to schedule a service appointment, you'll just need to fill out our online form and pick a time that works for you. Soon enough, our team will have your ride back on the road!
---
Service Specials
Before our team gets started, be sure to ask about some of our rotating service specials as well. As much as we want to get you back behind the wheel, we also want to make sure you're getting affordable service in the process.
You can also check out our rotating service and parts specials when you visit our service center online!
---
Service Center Amenities
While you wait for our technicians to finish up with your vehicle, you can also enjoy some additional amenities offered at our service center.
Need to get some work done during your visit? We offer complimentary Wi-Fi as well as a shuttle service that can get you home in time for your next meeting! Some of our other amenities include Saturday service, early bird hours, rental cars, and state inspections!
---
Certified Parts Center
Alongside our service center is also a parts center that has all the original equipment manufacturer (OEM) parts you might need for an at-home repair. Whether you need new brake pads, new wiper blades, or any other genuine Chrysler, Dodge, Jeep, or Ram parts.
Just fill out our online order form, let us know what parts you need, and we'll get them ready! Then, just stop by and pick up your parts at your earliest convenience.
---
Schedule Service Today!
Ready to take care of maintenance or repair of your Chrysler, Dodge, Jeep, or Ram? Whether you live near Snyder, Big Spring, and Sweetwater, Texas, or are just driving through Colorado City and Hermleigh, Texas, our team is here to help.
Contact or visit our Blake Fulenwider CDJR Snyder dealership to schedule a service appointment today!
---
{ "@context" : "https://schema.org",
"@type" : "AutoRepair",
"name" : "Blake Fulenwider Chrysler Dodge Jeep Ram of Snyder",
"makesOffer" : "Brake Service",
"description" : "Chrysler Dodge Jeep RAM Service Center Offering Brake Service in Snyder, TX.",
"brand" : "Chrysler Dodge Jeep RAM",
"department" : "Service",
"image" : "data:image/jpeg;base64,/9j/4AAQSkZJRgABAQAAAQABAAD/4QAqRXhpZgAASUkqAAgAAAABADEBAgAHAAAAGgAAAAAAAABHb29nbGUAAP/bAIQAAwICCAgICAgICAgICAgICAgICAgICAgICAgICAgICAgICAgICAgICAgICAgICggICAgJCQkICA0NCggNCAgJCAEDBAQGBQYKBgYKDQ4KDQ0NDQ0NDQ0ODQ0NDQ0NDQ0NDQ0NDQ0NDQ0NDQ0NDQ0NDQ0NDQ0NDQ0NDQ0NDQ0NDQ0N/8AAEQgAoADVAwERAAIRAQMRAf/EAB0AAAICAwEBAQAAAAAAAAAAAAECAAMEBQcGCAn/xABHEAACAQIEBAMFBAYGCAcAAAABAgMEEQASITEFE0FRBiJhBxQycYEjQpGxCBUzocHwUlRi0eHxJDRDRHKCktIWJVNzk6Ky/8QAGgEBAQEBAQEBAAAAAAAAAAAAAQACAwQFBv/EADoRAAICAAMGAwYFAgUFAAAAAAABAhEDEiEEEzFBUZEUodFCUmFxgeEiMrHB8AViFSNTovFygpLC4v/aAAwDAQACEQMRAD8A7SFx+4s/E0OFwWVECYLGhsuNWFBC4LKghcVlVjZMWYqIExWSQ1sVlVEC4rFxDlxWGUa2KyoJXBZUHLisqDy8OYmglcFkELgsg5cNlRCuCxomTFYUTJisSZcFkArisBSuGxJlwWIpxWAMuKzdmIMFhQ2KyoOKyoIwFRL4rEYHDYUNfBY0Q4rGgqMVhQ9sVlQCMVlQy4rCg2xWNBGKwGGCyoOCwog/n+f5/PFY0G2KyoJxWVExWVEtizFQCMZsaJlw2VEtisKIRhsaAVwWVAy4rGjXKMYs3lGAxWNBxWVBtisqCBizA0EHFmHKG+KyykBxZgoZWxZjVaBJw2ZykzYrKg5sFjQb4rCgg4rLKNmxWWWyE4LCgg4rJoObBY8SZsVghgcVlQTisqAuKxGAxWAQMVmqDbDZUmQrgsKBlxWNWaoYxZ1CDisKDfBY0g4UwoN8VlQL4LKhsWY1RBizBlCDizFQQcWYqBfDYUFTisaDgzFQQ2Jskg5sFklRM2KyoAbDmAfPgsaQBJisKRar4LHKTNhsqCDizFQ4OKyoYLhsMo4GCxykOGwyktisUkaS+OeY6UTPhKg5sZsqDmxKRUHNgsaJmw2WUhfFaKgBsGYqGzYrGgZsWYspM+GwUSczFY5SZ8GYzQeZgzGqCHxZgIWw5gSJmwZhoYNgzFQQcNllHVsWYlEbmYEyoZXxqyosD4FIaHDYbCiwHGXIaDcY1ZmgYLLKaEtjnZ3ohfFZUgGTFZOIM+KwyhWTEKQC+CxaIGxWGUBbFZZQ8zFmHKAy4rKgc3COUnOGCwyk5+Gwyk5+M2OUPPw2GUPPwWLiQT4rHIMJ8VmcowmxWWUYTYLLKMHw2WUcPizDlHVsVjRar4bBxLFfDZnKPmwWTQM+GzSR5zm45WdcpDJhssohlwWxonOxWWUnOwWOUBmxWWUhlw2VAM+AaFE+Bg4sPNxCl1BzMNllIJMVjRM+KwpB5uAsoebiLKMJcVhlJzcQ0ES4AyhEuIspYsuEMo4lwCojpUYiouWbEFFqyYiylyyY1ZZRjJhsGtQZ8FhR5rm4zZ3ykMuGyoQzYLGhTNgsqAZsFkRZsNlQOfgsqAZsVjQpnw2QDUYgonvGI1RPeMFhQOfisKIJ8JBE+CxQ/vGKyD7xgCgioxWDQVnxWaLVqcQUOJ8RloZZ8Rqi1ZsNlRck+IaL1mxWFFolw2FE5mCxPKibBZonOxAAy4ioXmYiK+ZiNB5mCworppbqp/sj8sFkWF8I0V1UQdWU7MpU/JhY/uOCyNV4T4akUC5BYSvNUtqx+0q5pKqUjMWNjJKxAvYdLDQFoWbi+EAA4SDisqJgsqNrwvw3UTgtDBNKqnKWjjdwGsDlJUEA2INuxHfHKePhwdSkkzrDClJXFNmcPAFd/U6r/wCCT/txz8Xhe8u5vw+J7rMfiHhKqhQvLTTxoCAXeJ1UEmwuSABckAepxqO0Yc3UZJszLBnFW0zVHHbMcsopa17fh39Nxv8APBZUU8FqHeKJ5MmdkVm5ebJdhe6h/OAdNG1G3TDZUZ6visMo6thsqLVfFY0WrLhsC+ObFZDSVNgbAmwvYbn0F7C52Go1xWRjcK4ys0SSqHCyLmUSKUe3S6nVSd7HW1sVkec94xkaIZ8VikAVGBMaB7xisKJzcGYcp2zwj7G6SelgmeSpDyxq7BHiCgm9wAYWNttyTpvvf81j/wBRxYYkoqqTa4H2cPY8OUFJ3qups09gFEF0lrLKBezxMQLgbLSsbXIubAAakjHOH9Rx5Oll/n1GWyYUdXf8+hlTfo50oBJmqtAT+2pb2Gp0937DC/6jjrp2+4LZsF6a/wA+hj0/sLoiyjmVR1H+0i/faAfut9Mcl/VMb4dvud3sOGlz7m+9nvst4f7hSE0sTv7vHdnzXY5epLE/nbBibXi53UmteTCGBDKtDYt7PKAEA8Pg1OpAqWAHe4gtf0zDrr3z4rF999y3MPdRlU/sq4cRdqKFTroGlI3NtTkOo11UWPfQnPi8b333FYGG/ZRVWezigUgLw1JBYG6lQAc1reeVWuB5rgW9d7HjMb3n3O0NmwmtaX0f7IxYPAVEzKDwnKDYF2aEqtwxJIWcsQCoGik3cdAxF4zG96Xc29kwVFvNG+lSt8P7a53x5P4G5j8B06WWASU6jOSlPK8Su0nLUs6gkMwWJVViLoC9rZjjm8Wc3cnb+JhYcYrTQ+bvEf6enhek4k/D5a3iR5UxpqitjVjQQzxnkurMZVmdEdLPNT0skNwzKzgyPj6K2KbjdpPoeN7TG61rqfSMnhaF7LIZKiKQglJpWljYAF1ZQTbdVYEadsfOzyg7Wj+B63FS46o1HiHwZSQmIQ8ISqzuRJy+SnLQK3mvLIgZs+QBOqljcZDjp4rG9+Xc5SwYLhFF/hvwXRToWk4VHTMGK5JUjZiB966kixN7WJutjoSyreKxffl3M7iFflRgDwVSRcPgli4XFVyiCl+xVY1dwyxq7BnIW6KWexOuUjrjotoxHOnNpa66gsKOVPKi6bwxCM2XgCsVdlW0lAA6h1VZFvUCyupaQBwrgKAVu1sZ8Rif6j7s1uo+6uxqvbB4QpYuGvLFSQwS5qf4FTOmaRAy5l0NrlSQSD8sezYcfEljJSk2qfFnDaMOMYWl0PnwTY/RWfKoZqwDqNu/QD/A/ge2JSKi4VNvyxZgyjPWAb9wNifiYKNBc2uQL9PTCpUDRhcNrFWKLMwX7NLXIGyjvizo1lPnyq9onGo3Dvw+YwkAjLQVojYPYqoleO7SWvop33XQgfN383w/Q7OJpOLfpCVis6mKKC2gEiOJFvcjR2W7W/sAX6aHC8afyM0jxPHfaHWVUYMkxEaXGVH5OeQ5nu0aMrEkm/MyZARpZhfHOTn7Qo9T4i9s9cOfEroFRzGskagyZFey3bzLmdRZjYHcjLbDGeI1SvsTSPE13tVryUkFRUMYznj1bLntl8yjysMmbykEa6/Eb7jmvVmWfpj7M+F+IKjh1BNTcQ4TDTSU9LZajg9XUyxl0QOZZo+PUiSEMWfy00QC2BGhY/nsTK5vNGV29br/ANT7allgqa4cK+57Gr8B8cJCPx3w7c2Kq3Aau51sCFbxPrroD3xzyR9yXf7B4muXn9jC8P8AgbxHOXB4rwRCmU3HAK5gQ5e2n/iMWtkudT8Xpc8rw3wi+/8A8nolibus2vydeprfG6cS4dy/fPEvh2mMlwqy8LkpJGBDDPGajxGw8rC1+W4JFtMajh3rGEn/AD5GFtEZOnp839kct/R28P8AGJK2Dn+JP1nwoxFEipayOOZGamkliEsdFEgj5TROpyT2fRsozFE9+NOOV/5bUr5r1PLGDu8yarrqfLXg720+NKyDPDxyqkkTlrLEmeSVS0crMzRU/Dpyq/YtqDlUfER5Q32J7PgxdZV/PqfPWJN62+/2PS8Z8e+NaV3FVx2pp1SZYy8/OhUIWlTm534YqcsGI/a5uUNbuLC+Fg4UuEPL7m3iTXGR56T25+KnEQj8UFefMaeN3eblo+aCNZHf9WctIs1Qp5srpCcree0crIvAw0rycNdF9wWJJusx0D9Jv29cQh4qsPBPE2Wi9yoAzR1z1yNWzPXc8CWGHiD5kSGnzqxjii5sV8hmQP59l2e4XiQ1t8VWh0xsSpVCXmfQX6HHtBrjwniT8a4kKuoh4lPFDLU81PsVpaRY4k94go2lR6gy5HhV0kaSySORYeTasKsRZI0qXD5nqwJ3B5n/ACj4iqvZV4igoffZahKdAkbGFv1lz1aSaSIoaaPhkshIMcjFAGlVVLOiKGI+upRcsqT7KuvNr9NT59Or0Psf2m+Oq2m9n9FWU9X7tWrTcDjNbBniGeSuoqSpnUtGjok6vKzZoUa0jXRT5R8iEE9pcWtLeh9GTawU0+mpxn2A+12unoePVHE/E61E0XCqqXhdPHxephqUqqeGaXm+6vFQzSg/ZhVZKiNyjDLcNf1Y+DUoqGG6v8Tyqq6Xr9eB5sPE/C3KSutFetnJV9uHibPOh8TuTTVS0k55/FLRyM1ShLt+qwgUNSyAyZuUCNXXMmf2bjDvSHkvU4PFnzl/OxOH+2XxKxp6eLxK5LvyURKrihCooiVGZo+HFEU5iiuX5bFGCuSrYfDQ4uHkvUFiy4Wdj/R9/wDEVa/C+I1viGR+F1NUqtG3F6+lkqokkWKUQJNDSySCOR15hSRWUBhe4Ct4MfLHNCMHdcVFUvqejDuVSclV8L1Nd7YeKcbmr+IpS8QqKjhkFc0UAPFBLAuQrJGheWpOeSIDMyuzSIfis3lxiOG4pNxadJ8KMzlbdPQ59JxSuMioa6GV3cQoFr4mUyEXXRJMo12fqbDewPTLiv3jncV0LG9mvFLJPLDkjJ+xqW5ixOwzG0NQIxFIwIY2ika2p+9rwjHLpFO0dPmzpvBvEHBKajZ+MeIOIUVZHMI5aNUizO4aJSsUU0TVTBGmXmEL5VBZggVwnSEdpnwT1utVwR1xNwqyO9FmtV+KtUvgnwfM8/7RY/D7Q078M8SVdZXySIWBRpOVBu+Zo0gImRsmiyi15RkJUY2o48W5Si++pxbw3paR4vgfshqJoYpRW0wR0umcywEgPJGxUSKmdBLHJHzFuvMjlXQo2OWZtusNv6o0oRftrs/Q+s/adW+BHpaloKr9dy1IMR4TwnxAZqurep4iK+WojgHEFPPp53lqmqcycqkjljZuQDEemHiYzavT41XLrQShFLij5e9tfjTg0MlInhaKhenhoWq6wVPF+K1wi1Ryska8b90kMSSqrxutS6yHIAMijH0sNya/GcJRSeh8+8S4owNVNSpFT0zzcrkw1CVCDOEqgiOuYZEFmOSxg/YPkIZD1b4WdI5eDNVwcyVTw0kccJcseWoip4GJVCzNJNHFHI+WNGZ3mdycrMzFszYXNrU01hvkel4h40hiFItKvPhiiSpqaXi0lJPSNWJEsL+7wtFRykZWIWGGolq5QVyBPdQ4zGc2nm4/DoGLhYSa3fBrX5n2t7Nfbn7PFpv/ADCgi4VVyw1fD6qmVOLVVN7ozzxZEq4kkpjHNBLnCq4kpzUyxhlOct8vFw9ocmlrrfHX9bNweHVt0H2l+2HwIjwy0fCqXjUclVVV1ZJNU1EbUElQtNTGSmpq4qZveneMvR0nKiEdK7kBlhDawt+vzNp8jM44b0VNcz5r9vPt0NdVVD0NVHBRxtyaKCJ54ahKd4YWkjnhE+Wanld5YLTRSoT5FJVMz/Rw40tVrz0PLJ29H5nCuBxGJs0MUaOoY5kjYPZhk2uqnKGYr5Qbs+YuMoXs5utTCVnQvBK0FNT1zVSc2sanQcLmhDyR07s00dQ0iouWQSoImUufhQWtqDjfyVJPTmuvTsb3SauteR9Jfo/e3fwlS0MCcW4Ks/EJBUxVtVBwOnKVamvjqqPmciGENylhgYsYriaBXZ3bzt8zaFiOTcJKulpfPmezDjGvxJ38n6HrvaB+kt4ceoppaHwzRV0KSTy1D8S4dNBWRVFbMJJJaCOWlmiYMyyz1H7JDLIpQ8xnEmcJTh+adP4ST07mpwvhFv5p+h8a+P8AhdRPJNLTULrDJU1TxU9Jwg0ccELSyJDFy6ajp0qG5HLIkHvLiNrGRSZVH0YY0VxlHuvU8ssCb9mXZ+hqeGeC6+VsrxzQGCCXlM9PMcrIXmSELEOYGkkd7MbZWb4k0IZbRBcJLuiWzz5xfZndvZf7UOG0HGTxCTw/Wy0EKqtLwyWkHEKikqFSmdK+nr+JSuwkWohKjlVglEbReRRAiR+bGnnjUZpP/qXZ0doYck9YuvkzuXir9KLg09K0XDfBxp6koaeGXiXBaOo4dDDLWRVVWstPw6rkqZQ8itOsUMYzVvKd2SzuPnwVO5Yir4S1O8sNtfhg+xwj23+2bjPHUWmj4fxDh1JyIIzwyDh0i8OedJ5Z5KpvsFlUIeSI1MfxIHyI0Yll90J4OHq5Rb62rOTwsWSrLKvkzl1J7KeJhtRULljeNREksRZD5hE4BgCxysF5l3LEjOSzKDjT27CfCSM+CxOcWex4nQ8Qnq6t6fhLRQ10kV6Z3hmjTImW5aaZ5Z+ZM8soZ+ZLnlbKIw2RTxmClrNfz5I09kxX7D8vUs4ZwDiVJURyPQx8yjliLUksccedomjWWJpBNA1MyojAsA5L2vmsVee2YfDN+voHhMTio/p6nafYZ7VJqanrabiPhuHilNPVTz0tPXVvCGi4dBVPJzOH0izNUD3MKI3sFhHMeUsr35jeTHx4TaksSvo/Q74ey4i4wfdepZ7Tf0iOPVCV9JBQQUdLXtHmahNFT1lLGsyCWF6gSFK4TU0MaMzxJfmSLcplWMwsbBTTcrr4PXy/cZbLi8FHzWnmfLXDvZDXZkEo5UXNMjJE0QZL6EoTZWZQAFY3yebKozyBva9vw+r7M4+AxOi7o757IvaBU0FTSyTcPp6yno+Hfq+OjnrEFPM5kDycSkgeCpSLiE3Kh5kkYbOOYCxuhXxY+0QxI0m07u61+V8aPRDZJqVtL5X/ABHQPEHt84nNFXQrwuiWkrIFpIKOnqoqMcPhjgWFHhrabhrVMszs0zFWWKOBRTJByzFM9R5oYuHBxeaVrW6u/o3R0eyzd6Lv9j5srfYXPJPLLIeTTsZmSGBmSSIOXZUjmMDElZGF3MbEgkAKFVR9Bf1LD0q/L1PP/h8307v0O7eyjx7xbgMlVG9PwmZpY6JOTT1EzcOhEUTymWkiWlKRy1b1Ty1Tqzc2QKWzOskknmntOFPX8Xb7nSOx4nVefoYp9lHDojzDQ0SuPKJhUqh81xl+0lO4uLK2u1sfI8ZjPTOz7r2bZo6uMSiv9i9FZFNFw9lvmXOqSKCLjqGj0va41t1G2FbZi+9Ins+AvZiU1Psoorg+7cMVtgy8odLWIKHe5GmUan+ljS2vGemafmc3s2zrWoeRVH4T4ankeKjzdZI4FI0A1ukRLaHsQTe2uB4mO+GbzMJ7PHSo9l6GJH4Q4aCgVoVuxAb3WwUdyeV5R6mx9NDZz475SJSwF07F9R4PpFNlqoBpa4gY6XOxUAXGh+R30NhSxn7Ehz4PVAi8K0ygH3+M2J05D62Nh93QHcfPpYjG/wDNfsPugz4S9pdjf0XGaWJhf3WUKti70w1JABtYI2ndgdt8cXg4z5NfVep1jtOEv+Cquj4fJZhNkYG/kimIHXLY9L+v1xqOFjpcPNC9owJcX5P0M3xdX0lVW1NWJZoxO6ulPHTLyIAI1jKwC8ZGbLnZna5Z3sQpCDe7xqSyr/y4nKOLgp8X2MSOmpl2mqiPSFbA+oMx39CLeuLc4vw7/Y14jC+PYA4qBoBNlHUqD+Cm4Fx2ODw03zXn6GPFR5JmNLOAbospve9xlsb9ADqOm4vvhWzzfFrz9Ae1dEXRh5BrDK7f+3fr0bmX29Px3xrw0veReL+BhVfhKofSOGoTfaIufSwLELsehvp2F9rAday8jhPGcuGn1KYPZ3XhbAV4J3bK63FyRplIFr6m+u2wxPZ0+fkeOn1fczuDeCq6Fg498uDf4+WSLm635R0NyDpqNh1wPZYvn5HWMpR1t9zcT8BqnZyBygQSRNVRlVFwTYyRhlF7AXbKLgaaY5+Gw4LVvyR2eNN8PUxIqSdNDLR5tLN75SB1sbg3WRduhI0/fjotmhxt/wA+gb+fC0WVpmkLPNU0js7F3karpWdmY5izMJSSx1uxBJvre+NLZocdfL0Dfy4aAhWNf94oAe9zIw+saMPxv117a8PD49zS2ma4V2HVFubVtNcnMQsU7jbUhfdyBpqQLbbam54fD6Pux30+pkTZdjVQ6/0KKe1rdP8ARlA06Cx29DjKwcPp5sHjYnXyRX+rIyP9ZkIIF7U0o0FhsyL9TudzfXG8uGuXmc80nzMatoDqre8ML2N4/KbE2uLFTc3I1Nx1sL4VHCfJF+L4hjgcqFVasqoFlUAKoB0sAwAF9tAAfnie6jq8vkaSm+pnGgqdLpWWtpmZzceln2xwljYC5x8jWTE+J4xq7hf9Yqm+VKx//VQh/LH0/wAR4tBkm4bewWsa+n+rZT+HvTD9+C5cypcjIjmovu0dbJ2AyR/utMfrjLl8Ry3yDUVtMpy/q+qv1vUQ6Htc0u/0/HAtVdk9ORkRyx2JXhhJBA+1ni6htbJDGdMh+9+OMuaXFnTK3wRlOslzbhVMLbnmzHXtZXW5BIBttf0Ixjew95GlCXQtijnvYUFIuu4NY3z/ANuRoNdhsRca45vHw1xkO6k+QHqK1Cf9Ho0toSyTEL3+NzsNT+W2HxGHXEy8KfQeKuqpCVjkowy28ppab+jc/tQbm97akkLpfHHxcFq7NrCcuFFWesFy01Ii6eb3ThzC/mAsAjML5T0+mxwva8LlfZjuZfAefisyi/6wVA2l4oo4shABcHlxaAWY/wDDroLnGFta5Jmt18QLxh2BtxepUizftpdVYA5gEUi2wBuNHF74z4uvZN7n4g95lLBBxKrN1zBhVTElex8wC/e0axt3vjC21p24mls96WIJclmarrJQw+IzSELYnc803vY7X0BtfE9rcuEaHcRjxYvvMJQsHnlAGXWV7MSzAD9ox184J1Frag2B5eJxLqjOSPE1MM1M3wxFxlvYyG4OZmBY6rqjCynMxNl1tjT2jEXGuwZI8hqhqNCLw76NqrAWC3v5dbEg3UFrC+7AYz4nFfQzu4vkLw/xVCmiKiWS5BQs7MTewKoFVfvBmyobGzXy5szlOfE0o5UZFV4wjjyO1DHIpy2zKQW8oyBEWRWKgDvp/ROjGjPE4KR1jGL4xPRcE43FKMi0sAl1Z/s2dlUFTlIIZFMauhsWBfUC+pHmxMXFj7bPSsKHuo9NTugeywUxy3zFkU5QCQ10cgHS1rDS4OZs1h45bTi+++503UOUUbxKiNi6xwU/qWgjUptmVAY87bbM2l+ul+bxcWtZS7s3u48kuwKbw3HqXOWPRwApupHmNibnJ1Km1yL3+LHLfS4W+5tYaK6ThDL5ufJk1LR5soyCzaBVAJuu+exH3dCcLm2O6QjrPYKszohNkDEm2bYAnONSABdVBvsNQBV0LWqRmPVStpLGAoX4oylzltcHW1tr2ABVba6XMq5DTH4fSK2ZllMewyq7hdLkELlbLuQddSD6k2WuRlpo4lw/x7DlcNSxLZLrIS9yxkRCpzybxrmkvqALX01P35yxeKkz5UMnOKLaTx/As0atTxZWy+dkDWN9XIsoUA/dILeUnS4uS3jj+Z38zvF4af5V2M7i/i5BHmEccZOjOsdtEQBnXLYA3IAO5IGgA8vlipSerb+p0eIq0SR5xfG8smRU8pbzkWs6x2LLcgqWXNbc7tbTHZw5s4OTfA2kPieoCsHZszDO0bNcKoW9mK5r5m3ueq9dMcXBcjam+ZlL4mkMJBb4gQSz21PmNwDoLC67G5Nr2JOd3qdMzqjWPOrLbMwBBe98psh3FtB5uWove+p0GmOqRyMrgXEGEqxhzfIzAuWKglWcxsDmuAjLoRdQ12Fr2MSNo6RMWupBOwshQKzjyhcthENybKCEcprrmNzcaFh+BGJYabso4twEPy4w7IvwE2OXzfFpfLISFyi9hY6kBGOGMqtk8NcjLqeAwyLyQqkkZpDaxSIgEBiBdcwW9msAp7WGMKbX4hWEm6GXwYryXByWA+ZuzBV2scqE6fdbIbDKuV3ump6N1E2U3hho0aQsT5nVltditkcNck6WVUNzZSG+ZxnzaG1HKjW8QkzlFCgMpyAKotrGjlb5b7i17LZQososo3FtHGdSo3T+FkQBLZi0hL5UdroRa2t7rYBrEXDSNqoBBFiSuzW5SYlD4AkYIYo3U8wsw5bFbgqy5kzWIBVvow+AgHBvb4i8K+CM2u8HAGLPCFiIbIOcsb+awDAs9iyhc7M9icvW5VCMm1+HiZ3NO+RjU3gamVvPNGsihmW8iIgynyCRjbRj5iCDoRlPfWbFfCL7GMkebRl09bTFQTUUyWFlIMrShPvZltkNzfKvLUgKozte7b8Piv2WZju1xkiyl8R0mcLHeTUEiOmJfsQct/u3sLEdithbL2TE4uvqze9w1wfkbdONMCxSi4gAQAFaCVo7CwOjyoq7M27AaC5t5Twb5yj39DSxo9JdjU8OlmRgeTOLKFRJKylRUsV+FnAkXRALBiSSxOtgvo8Jftf7Ww8VXs92kegpvHlSCTy6VTa3mrBK1luBm5SyljYhbqAQADvqMf4dH+76L1ZnxfRLv9iibxLOzZs9EAQf6851Frm6Q5rajzMNde+Oy2GC5S8l6mXtb+Hm/Qwv13KDm95VTrbJSKRqOnMq9e4JBI7WAGOsdhw/d/3fY4vanyfl9yufxC5Fmq5zoVsqUsOhvcAiKUgW0FtQALbY6rY4LhFeb/cz4uXV+XoYM1XExu0tcxAtcVYBO+ptAtzra5Gwx2WAlwS7HF7Q3xvv9jntGYbgZA65cpz3VDq2bzD49DIW1Ki5ur2GPlvN1PXSM1qJTMnLTLy47gLFdfs1yhAoF2uyCy/eJdfMQBjHBE1qNxHhc8ixiOOVwA6nMHudUZpCQo8xIsx8oQBr5cpIYOK4k4SfBF3B/B07MHMerNGCxJN8obMFsQVurZiLkHKBZhc4ZST0R0jhyN5QeD1fmHKgIXMftFbMtyAozuoy3G1rudLnMccHJo67qzIqfAsnnytGVuQpu1gFPmU5QVUsqEk5bMACbAa6THdGBWcDhVCstTTiVlXVtGFpFYeXMCBd3ABJ+zscya37KE3wizk4wWjkjNpeKUMYC+8Xu7uJOXGX+0L3PlYG9nUEZgQqDSwYYvD4r9ks+EvaNPw/ilCCFaaZ7OWX7NbeflmQGym2TISEBYsWYkk5WPV7NiPkl9TO+wuFvsbyeaFgrRUHEpiCtmaP7MjXqtnNgF82Ui5OguSea2ZrjOK+ob2K4Rl2KpBLmzrw8x2ZZLVM6xXdcpQlJZUvlYA2KlSVGm1ui2ePOfZNlvmuEO7RlR8ZqNAYuHR2JK56lJje9ySI3luxJzXABDEkWJsNeEgvef09TPiZdI97K043U7e9cPX4doaqRhlN9C8DC+w0Kg9TqSenhY+7Lukc3tMusezY48Qzg2HEZUvqRDw+lVPUAmWNj/zpcnU3sLdFs0fcX1k/Qz4mXvP6RRUePE6e+VrW1JRoYLm4bXLHIb3A6tYabY2tn/tj2b9C8Q/el5Iw2npzqxqnIGnNrWKi982kccPlJudCL46LCrp9Ir92zg8e+r/7mLPNSkljTwux6s9VIdNBctVMD9bi37trDfV+S/RGM6etL62/3LBxaMWywQDtalgO1+rxsTbob998O7XV92az6cuyMhPFUgvlBT/gVIj9OWEI7aenfBuodP3/AFM7yS5kqPFU7CxklKnoZpGH4FrH/HrpjSw4rgl2J4kq1Zrcny1/z9L7Ad8dDkyBzqCw+QA/dv8Ah8sIa0Kk6j7+noRvr6YgJ77GNS1z/PrbXbAaEbjEXqf59f8ALDQZir9dJ0U/T89B/PphoLKpOO2+7+P+R/h/c5Qs2fEKuuKWWkFOxUqGeqpoTlawy8udY2Ay3uARnbVi+qn5EcHDv8zfyi/ufWljTqsqXxbX2KaRKxFKc2iQEas0vOkBOYly8Zlu7k6ixW2WwAQKOm5w27yzfkvOjG+xEuMf1/T0EhWddBxJAoJItHPIwvocpmgsreqsDck3ubjW5j/p+aX6Mzvpe/2X2IZrkZq+sIVcgtBEhyqLZS61QYjKMoLC9gLg2tjosLpCPdv9jm8d8HOXZL9zGmhpdcxrZBawzVCWuPQwSWOum++lt8dFhz/tXyX3OWeL45n839ihhQj/AHVW0H7aSVrfLI0PUXsNsaWHP3n9El6hmhyXdsti45CgtHS06X1uUaX/AOtTJMnXogt6Ytxerk+/pQb2uCXb1Gj8WsPhSNSLfs6Wnjb8UhQj54dxHn+rf7lvpLh+iLD46qj/ALSQDoFeQAf9Lgflrh3OGuEUG9n1Zj1HGZJDdgzdi5DEfVyT6nv+GNqKXAxmb4mOk7noB8iD+I7+mEC1Zn6sB9CNe1rXuP4YBEaf+3v2C62Hf/P62xGSCo+7c7337AHa3yO+GiYhqk11BPzv2/j/AI4aK+oFrU+e4229b9D6jp+8obBLxpBa5A7HQfTpc/zrbBRXqZ1FDNILxQTTC2piikkuP+RWB/m3fEasw562RSwZWUgkEMpQgje6sARbY31GvzOqMtlJ4qdfOv43PrsDtb8LYspNlL8Tvb7TT0Ddvp+AvjWUzmK34mP6bN2Fsv5g6ev+AxpRDMD9Yr2Y77k9f+UddDsO3S7lDML7ybnyX027fO99L6n6bYspZis1j2uAF77X6gWGu/Q327Ww5UYzdBZJ3P3tztbvfsP7jjVIrZjzwOT8V8OhnUzhUya+W1r77bX82mnr+WODo7IL1LncgaE7/iPwA6ddsSohhI2+cbC/p9b/AM/uwiBpDuX23sL/AMR8r274iEMYO7NbXoD666MNe+v4bQUO0Si2mvcsov8AO1u9rW/xhLVkXpb8+mu9/wAL9upsYgirFhb/ALe+/p6YyLZV73v6C/U6emhPpYXJ36AYQJBOWbKhLPbVV87HXXRddDpe3z3Ny0RuqbwVXuPLSVdt8zQSRpboeZIqxqFNtSwtf5YzaGhE8LOCwlmooioJbPxCjZgBveKCaaYEE7GMG520xJi+oF4XTDWTiEAN/hhgrZWA2P7Smpo2+j2v1w0+gWkY4reHISXkrp9fgSmpqVdSL2laqridv6ut77dQ5WGdCUviqiUWWidm7z15lXXrampKEnW33th9cOR9TOdFT+Nlt9nRUKE7MYHqCOu1dNWKf+jfpsMaWGWfkhV9otYilY5BADr/AKLDT0mpFh/qkMOmncA9tMORGc7NdX+Lqib9tU1E3pLUTSD52dn00FrEW9LY0oIzmZrUYnYEWOxAsDbYWJ3ve1ztjVIE2ZElOxsLX23/ABvobDTa174tDTfUT3Zu8Y3663HW9iLDff8AhdsB4ac/eK/QadNu17nufQ64LDUytTpoANe+3z/v1F9NDgNUWgdPl27f3dB664LD4EDD935W/P8Av2xEhRP9L/w9QD8vXCTYVnP8i+Aroj1bNuT33A2O+2ljmGn99sVR1RSKiw+Ib99Trr69OlzsbdiiGFTca67fDfc2Gmov3+gxEGSo1sFJboLZfX7x07ant21isRa+1rADpqcxB77W/wAvoWgsqk4uvUkH0Guo1HxC2m979z1w5SzIX9cpvfXS230OxtrpYea/1vZQzIpPFQLet+renysPz77Y1lssxnQ+0OWNVCR0oOlpG4dQyyXA/wDVmp5Xv97MjZgdbgEDFurDeAqfaXxBy2atrLHTIlRNHFr2iRkiUDssYAsNsWRIznZ5uorS7MzkO2nmYXbX1JJv0FzfQbY6ZTOaw+8E/h02A9Nh366H98ooG2Qs/Udt+tx62JBB3Fthr0xqkFsBDdLA2tvbcjW179fujQHbpgaRWy+SmGhzFvSxOnof7gNPljN8hoykiUC63N9NNNe+q3HpqN9drEND5AP8e97bdP3D5a4AHjksPnf177ix17f0bfhEWCr0+R+VjvfQbgjroP34iZI6wX7d99bDe2m/rc/niNWO1X/j0Gp6n8Ot/lgRJgWoBNhuNOpv+63TS2vXzXN6iGEg+euvTa3f/Mep0xDaResuvpv11019fqNu/YoyK1Tb17egIA73vY6AkED5jDQlZkJ2U37X162Ou+vXX94w0HzLBKBuDf0K3+RINj9O5w0BojxJRsD2727XvsNCfTGcrN59QnihFso1/ItqBsPoR266WqLMUycQOt9GAFvzGgB0AO/pp3xpRMWV+/Zhq19tN+o6WF+9j2Ol9MOUswvvIJ+I69CD2O3YX0sf46NFYTIbE3HbtfS3/Dr5jrqbk74FoRVZu62FrC6g6gbEWvt+PrjZksER3za318o12vewbrc3LC+uguAa0IY4FtqW+f8AG/TcdNAN9sDfQqGWmUdLnQm5DC4tbovz+vrjOYkkMI9dlH0udLX0va++9tr+grItAGlz+NwN9zYj5/M63vc5EgYD+PT5db2Ommux9bRBEot00+XY/wAOx/PSIbm/LU2t6X11Olj9PmLWxEVvWa2sRp2GttNxvpc/TbbEQ4nLdyRboCPyvtruBodtMRDmQi919LEbHYbDTtpff5nERaJl6bHr8t9zcWGg019b6VCWtKB0YXvoDoNLA3+Z+RF9tbIB5ibAHqdRe/Q2uRpvb06XwCi2SmQ6MWymx+Irci53Fj0uACT5enlAU64AypadVOhY2GhzEg3sbEMToNvXTbfE3ZGUbX0U6GxvbSxAOynXTe9zp/auEWgg7DpowO2nULroT3/iMRCxX/o39LEj/ptYk2IJsd74hCqFem/Yg9tNDfvbN0OmCwP/2Q==",
"priceRange" : "$0-$500",
"telephone" : "(866) 332-4825",
"address" : [
{ "@type" : "PostalAddress",
"addressCountry" : "USA",
"addressLocality" : "Snyder",
"addressRegion" : "TX",
"postalCode" : "79549",
"streetAddress" : "305 16th Street"
} ] }
Blake Fulenwider Chrysler Dodge Jeep Ram Snyder
Is Located At:
305 16th Street, Snyder, TX 79549
Get Directions