Towing Tips For Your Ram Truck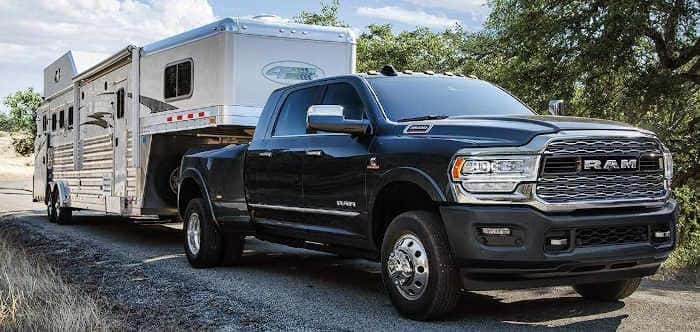 Looking to head out on that holiday road trip with your camper or take the fishing boat out to your favorite spot? Then you need to know how to tow. One of the best ways to prepare for towing a heavy load is to buy a new 2020 Ram 1500. It's got a max towing capacity of up to 12,750 pounds when properly equipped, so there's pretty much no load the Ram can't handle.
That's just on the light-duty truck. The heavy-duty Ram 2500 can tow up to 19,780 pounds, and the Ram 3500 can handle up to a staggering 35,100 pounds! With all that power, you'll have no problem moving your trailer or camper, but power isn't everything. Here are a few tips that will help you and your trailer arrive to your destination in one piece.
Check Your Weight
Before towing, be sure to check the weight of your load, trailer, and any cargo, along with the limits of your truck and your hitch. You'd be surprised how easy it can be to overload your truck or equipment. Another important but often overlooked step is ensuring all of the grease points are properly lubricated. This will greatly increase the life of your equipment, and make towing much smoother.
Ensure that the brake lights, chains, and a breakaway cable are all connected. It's also important to check any trailer brakes, whether you're equipped with electric brakes, electric over hydraulic brakes, or surge brakes. Be sure to adjust your mirrors so that you can see around your trailer.
Adjust Your Driving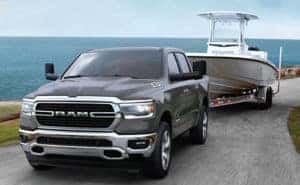 It's always important to stay attentive while driving, but it's especially important while you're towing.
If your vehicle has a Tow/Haul mode, turn that on before leaving. Always make wider turns while towing. Your trailer will turn sharper than your vehicle, so it's important to give it plenty of space. This is particularly important for right turns.
Give yourself more space on the road while behind other vehicles. The additional weight will significantly affect both your acceleration and braking. You should also get into a lower gear early when descending or ascending a hill.
Back It Up
Here's an easy rule of thumb while backing up; place your hand on the bottom of the steering wheel, and move it in the direction you want the trailer to go. Move your hand right to move the trailer right, and left for left.
While reversing with a trailer, take it slow. Going too quickly can cause the trailer to jackknife, and you could have a hard time straightening it back out. It can be tricky and definitely takes practice, so we recommend spending some time in an empty lot reversing into spaces to get the hang of it.
Before you hit the road with your trailer, stop by Blake Fulenwider Chrysler Dodge Jeep Ram in Snyder to pick up the right Ram truck for the job! We're your trusted Chrysler, Dodge, Jeep, and Ram dealership in Scurry County, proudly serving Snyder, Colorado City, Sweetwater, Big Spring, Abilene, Lubbock, Midland, and Odessa.
We put you first!